Here's what the workout includes:
Jumping rope — 1 minute
Jump rope out-and-ins — 1 minute
Arms and abs squeeze — 1 minute
Jump-overs — 1 minute
Stability lunge — 1 minute
Do each move for 1 minute. Repeat the circuit 3 times for a total of 15 minutes.
Here's how to do the moves:
Basic Jump Rope — 1 minute
Start by warming up your body with some classic jumping rope. "You want to always make sure you keep your elbows right at your waist and your arms at a 90-degree angle, shoulders right over your hips, and stay low to the ground." Engage your core and keep your back straight—this will help you keep all your muscles engaged so you get the most out of each jump.
The goal here is to just get your heart rate up.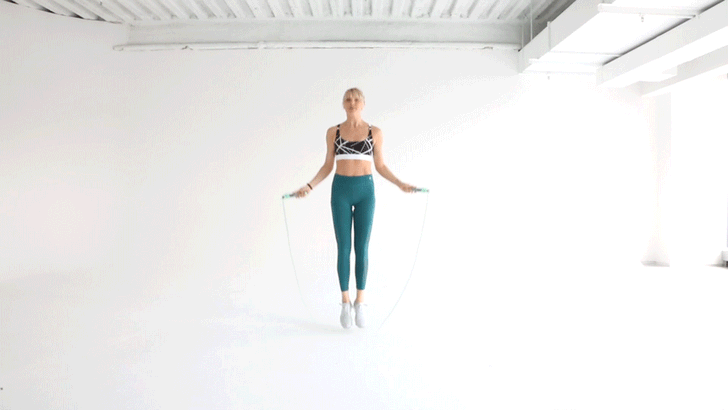 ---
Jump Rope In-and-Outs — 1 minute
For this next minute, you'll just keep jumping rope, but add in a jumping jack motion with your legs. "This helps you work on a little bit of coordination with the jump rope". Focus on squeezing your thighs tight as you jump in and out.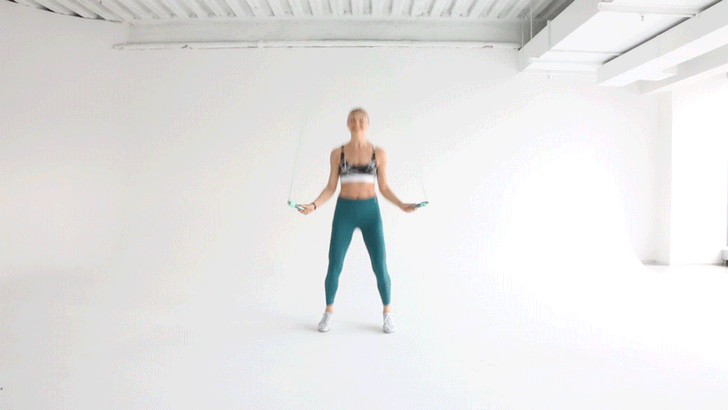 ---
Arms and Abs Squeeze — 1 minute
Stand with your legs shoulder-width apart. Fold your jump rope in half and hold it at both ends, arms overhead. Pull down by squeezing your elbows down toward your waist and then up two times. Reach your torso over to one side, arms still overhead, to do two standing side crunches. Repeat this movement, alternating between pull-downs and oblique crunches, for 1 minute.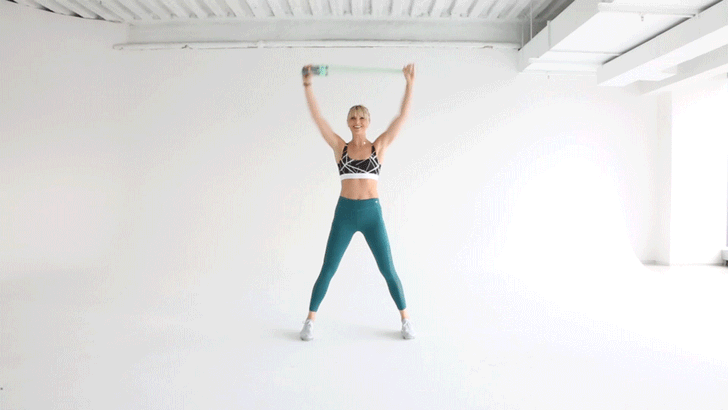 ---
Jump-Overs — 1 minute
Jumping back and forth keeps your heart rate raised, and gets your body working laterally—which helps improve your balance and coordination. To do it, place the rope on the ground and jump over it, side to side, with your feet together. Make sure to keep your legs, butt, and abs engaged, and keep your legs as straight as you can. Continue for 1 minute.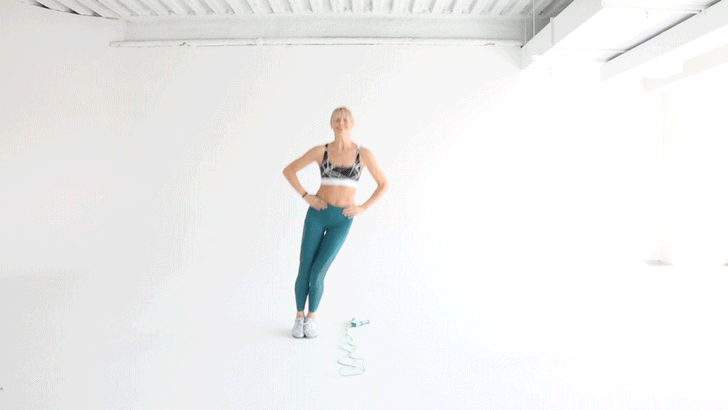 ---
Stability Lunge — 1 minute
This move gets a little more into your lower body, while also showing your obliques some love. "Think about ringing out a towel with your waist so you work those obliques".
Start by standing with your feet hip-width apart. Fold the jump rope in half and hold it firmly in both hands, your arms straight overhead. Take a big step back with your right foot and lower into a lunge. Twist your torso to the left, then back.
Next, push off your right foot to stand up, and bring the knee out in front of you at a 90-degree angle, arms overhead. While holding the knee up, bend your torso forward to do a standing crunch, bringing the rope all the way down to your shins. (If this is too hard, you can touch your front toe to the for balance.) Step back into a lunge. Repeat this sequence for 1 minute.